Hire Line – 07961 814108
Party photo booth hire from Funbooths. You won't believe the laughter!
Photo booth hire in Telford Shropshire is a must if you are planning a party or wedding in Telford Shropshire, or other special event in Shropshire.  Funbooths offer party photo booth hire in Shropshire for hours of fun and comes with everything to make your party rock!
We are based in the West midlands so are in a perfect location to deliver a party photo booth hire in Shropshire.
Funbooths photo booth hire provides unique and exciting entertainment for all your guests, young or old.  Everybody can make unlimited visits to the funbooth photo booth where they will have an absolute riot!  Grab some friends and fancy dress or simply perfect your pout for some fabulous  photos and memories that will last a lifetime.  All at the push of a button!
brilliant… HILARIOUS!!! great night had by all xxxxxx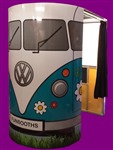 Hire the funbooths photo booth for a standard 3 or 4 hour package and get all this….
Choice of Photo Booth Designs inc VW photobooth
Unlimited visits to the photo booth
One, Double* or Triple* prints per visit
A friendly funbooth attendant
Guestbook Management option*
Private Web gallery with free photo downloads
Personalised message or logo on prints
Choice of picture layout designs
Colour and black & white options
All Hi Resolution images supplied on DVD
Set-up / take-down of the funbooth photo booth
Prop box (hats, glasses, masks etc)
Choice of backgrounds including Green Screen*
Thanks for a great evening Chel – No need to hire a venue – just a funbooths photo booth as it looks like this is where most of the night was spent! xx
At funbooths.co.uk we have thought of everything and the fun doesn't stop when the party is over because your guests can enjoy unlimited and free photo downloads from the funbooths Gallery.  Each session in the photo booth gives a set of four pictures to take away on the night.
The funbooth photo booth is perfect to hire as a Birthday party photo booth in Shropshire, a wedding party photo booth in Shropshire, a corporate event photo booth in Shropshire and any other occasion where you want to make an impact and ensure that your guests enjoy every moment.
We are based in the Central Region of the UK, hire a photo booth in Birmingham, West Midlands, Staffordshire, Warwickshire, Shropshire. We are happy to travel and hire a photo booth to most parts of the UK so please contact us.
To hire a photo booth call us on 0800 021 3991, email info@funbooths.co.uk or click on the contact page,
Hire a photo booth from www.funbooths.co.uk and you won't believe the laughter!