Make Your Prom Memorable! • Funbooths photo booth Hire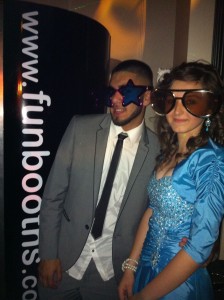 School Prom is one of the most important days of your life. You will want to cherish the memory of your prom forever. Renting a photobooth from FunBooths is a perfect way to preserve your memory to remember forever!
hey, thanks for the booth! made even more memories for us lot
As one of the most monumental of life's "Mile Markers" you will want more than one or two professional pictures to remember the event. You will also want to be able to "share and compare" with others about your prom.  FunBooths has the solution to offer you.
Not only will you and those at the prom cherish having pictures developed immediately.  You may also print and view your photos from the secure prom galleries at funbooths.co.uk to share with friends and family free of charge.
Whether it be a Leavers or Graduation Ball, Summer or Winter Prom a Funbooth makes a great prom idea for your event. At Funbooths Photobooth Hire we offer all educational establishments a special offer on our prom hire photo booths. All you have to do is add the cost of the booth to your ticket prices and leave the rest to us!
The Prom/Ball Package
Travel to venue*, set-up and tear-down of photobooth
3 or 4 hours of photobooth time
A Booth technician for the whole duration
Unlimited colour or black and white 4"x6" sessions for the duration of photobooth hire 
one  print per session
One personal message added to prints
Prop box hire
Hi-res memory stick of all the images including the individual shots as well as the photobooth composites
Password protected Online Gallery with FREE downloads for guests
What a brilliant addition to our Prom night the fun booth was!  All of the students loved dressing up and having the informal group photographs taken in it and the souvenir pictures that they could take home or later download from the website were great.  The staff really enjoyed it too as I paid a little extra to have a souvenir of the event with lots of the pictures of the evening set into an album that included signatures and comments, it clearly shows that everyone enjoyed the booth.  The album often comes out for viewing as a reminder to both staff and students when reminiscing about our fabulous Prom.  All in all, I could not emphasise enough what an excellent addition the fun booth is for any event, and how very professional yet friendly the the staff are that supervise it who provide great  value for money.  I will certainly be bookig the booth again when I next organise such an event!